As it is known today, Veterans Housing Scotland was created from the Scottish Veterans Garden City Association (SVGCA) and Scottish Garden City Housing Society (SGCHS) who were both formed during the First World War to provide homes for heroes returning from the War with disabling and life-changing injuries.
The Garden City Concept was devised in Scotland to recognise the sacrifices made by ex-servicemen and honour their Service to the nation. The concept provided hope of a bright future in a good home and some work aspect, whether from their back yard or in the local community.
The first development in Longniddry was a self-sufficient community with its own piggery, beehives, and community hall. An enthusiastic concept that was rich in intent but unsuccessful beyond the Longniddry site because of the financial costs involved.
With publicity mounting, Scotland's towns and cities wanted to set up similar schemes under the Association's banner. An article from the Scotsman on 10 November 1915 states: "A bare outline of the scheme shows that the proposal is well-conceived and skillfully planned. The Association will work through a Central Council, but each area will be a self-controlled, self-administrating unit. The funds will not be pooled, and each area will raise the money for its scheme. The Local Committee will expend the District Funds on the care of its men".
"It was noted that SVGCA made one of the most impressive contributions of any voluntary housing body in Scotland during the inter-war period."
The Christian Salvesen family had been closely involved since the Charity's formation, with Christian Salvesen's son, Edward Theodore, being the first elected Chairman of The Scottish Veterans' Garden City Association.
Lady Salvesen became Chairman of the Ladies Committee of the Association, which raised sufficient funds to build five cottages at Liberton, Edinburgh, in 1926.
Before the death of Lord Salvesen in 1942, he oversaw the construction of 220 cottages and the formation of over 15 District Committees. In 1946 the Salvesen family gave the Association funds to build 20 houses within Salvesen, Edinburgh.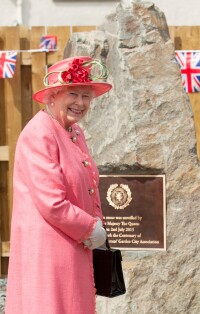 The Charity has a long and proud history with the Royal Family. We are honoured to have HM the Queen as our Patron. Her Majesty has visited our homes in Edinburgh in 2007 and 2015
It was believed at the time, and still to this day, that the spirit of comradeship and sense of belonging in a community of likeminded people who had served their country and shared similar experiences would go a long way to providing when needed, valuable peer support from a friendly face.
Houses for Heroes
Despite the Association's long and distinguished record of providing affordable rented housing for almost 600 ex-servicemen and women and their families in Scotland, more needed to be done. After 90 years, the Association's total of 594 houses, with turnover averaging only 30% per year and an average occupancy of 99%, was insufficient to meet the needs of over 400 veterans on a waiting list.
The Houses for Heroes Appeal launched in 2009 to provide 60 new houses across Scotland. By 2019, 42 new homes had been constructed by the Association with plans for a further 18. In addition, a further 11 houses were built on a shared equity basis, with an additional six planned.
The Association's groundbreaking initiative to introduce a nomination rights scheme in Scotland is progressing well with local authorities and other housing providers. Six Houses in East Lothian have been provided with a further Five in Edinburgh due for completion in 2021.
The progress made by the Association since it was formed in 1915 has been significant. It has paved the way for the next exciting phase of its history and the future development of its work to become Scotland's leading military charity provider of homes for veterans who are disabled.

As part of a re-branding exercise in September 2019, the Association adopted Veterans Housing Scotland as its operational name.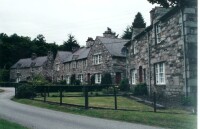 Community development is essential for the future success of Veterans Housing Scotland. Its Strategic Priorities include building lives and building communities, and supporting the ethos of 'community within a community' across Scotland.
Veterans Housing Scotland, working in partnership with other support organisations, aims to provide an enhanced well-being support package for veterans and their families tailored to individual needs.